A £90m boost to kick-start aerospace manufacturing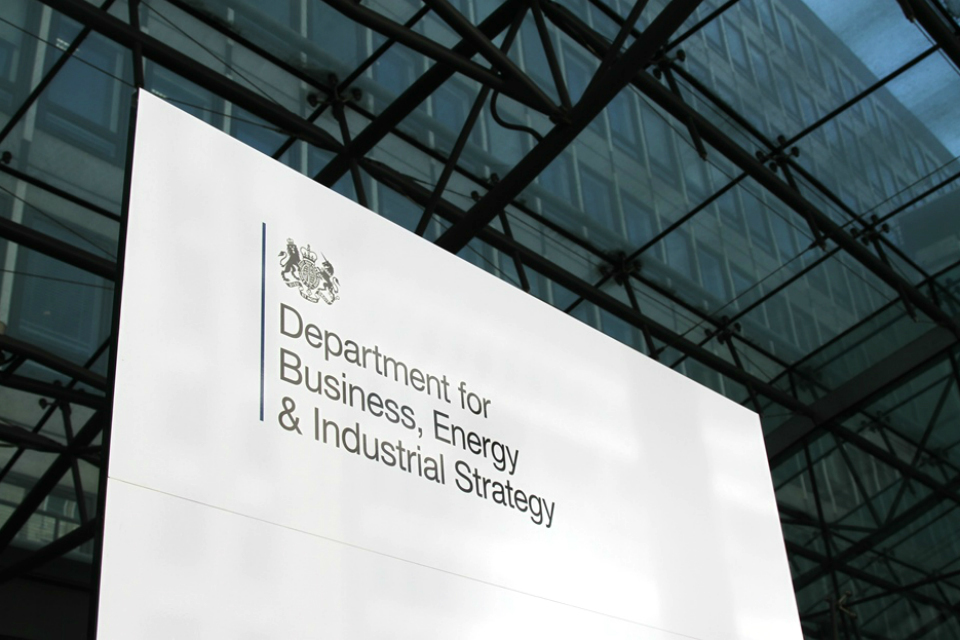 Five innovative aerospace projects backed by nearly £90m investment set to revolutionize aerospace manufacturing in the UK
cutting-edge technology, including 3D printing machines, will be crucial in helping industry build back better and greener after COVID-19
projects funded today have the potential to help secure 1,400 jobs across the UK
1,400 jobs could be secured across the UK thanks to an investment of nearly £90million in aerospace manufacturing announced by Business Secretary Paul Scully today (Friday March 12).
Government-industry funding for the 5 projects through the Institute of Aerospace Technology (ATI) aims to improve manufacturing within the aerospace industry, by developing technology to make production lines faster, more efficient and more profitable. This will protect the UK's manufacturing sector, ensuring the UK remains a competitive market for aerospace companies as we recover from the coronavirus pandemic.
Successful projects could help secure around 1,400 jobs across the UK, from Bristol to Belfast, and from South Wales to Somerset, enhancing local growth and benefiting communities.
Business Secretary Paul Scully said:
This multi-million pound cash injection will preserve vital jobs and support the aerospace sector as it rebuilds stronger after the pandemic.

Manufacturing is at the very heart of British industry, and innovative processes will ensure the UK is at the forefront of global efforts as we develop technology that can power a green aviation revolution.
The project proposals focus in particular on creating lightweight materials and parts that will reduce fuel consumption and can be adopted on future hybrid and electric aircraft. This will help the wider aerospace industry build back greener as it innovates and adapts to more sustainable travel over the coming decades.
Projects receiving funding today include:
Led by GKN Aerospace ASCEND (Bristol): McLaren Automotive also joining the consortium, the project aims to develop and accelerate new lightweight composite technology, including parts for aircraft wings, in the aerospace and automotive sectors, and improve supply chains for more sustainable future mobility solutions.
Led by Renishaw LAMDA (Gloucestershire): The project will develop a metal 3D printing machine to mass-produce smaller aircraft components, increasing production and consistency and reducing costs. Manufacturing will take place in South Wales.
LiveWire (North Somerset) led by Q5D: the project will create a machine capable of automating the manufacture of wiring and integrating it into aircraft parts, including aircraft seats or even a control panel in a substation steering, thus reducing costs and making lighter and better quality components. The technology will provide new job opportunities in the UK and previously held shore jobs overseas.
Aviation Minister Robert Courts said:
Net Zero aviation is the future and this cash injection will build capacity as we seek to build back greener and make businesses sustainable in the future.

We are committed to working closely with industry, including through the Jet Zero Council, to accelerate the development of new aviation technologies and sustainable aviation fuels to help us achieve net zero flight.
The government will help advance the UK's future transport system through its extensive R&D Roadmap and increase R&D public spending to £22bn a year by 2024 to 2025. The investment comes ahead of consultation on the aviation decarbonisation strategy this year, set out as part of the Prime Minister's ten-point plan for an industrial revolution green, with zero jet and low carbon aviation as a key pillar for building back greener.
Today's grant winners announcement is part of a wider £3.9 billion investment between government and industry in aerospace research and development projects from 2013-2026 by the through the Aerospace Growth Partnership and achieved through the ATI program.
Notes to Editors
the ATI The program winners were chosen by the Department for Business, Energy and Industrial Strategy, Innovate UK and the Institute of Aerospace Technology. Total investment in the projects will be £88.7m, with £44.1m coming from government and £44.6m from industry.
Aviation has a crucial role to play in achieving the government's net zero commitment. To this end, other government assistance to the aerospace industry includes:
funding £125 million in grants, matched by industry, through the Future Flight Challenge, for companies to invest in future aviation systems and vehicle technologies that enable new classes of electric or electric aerial vehicles autonomous
the creation of the Jet Zero Council, a partnership between industry and government to bring together ministers and industry stakeholders to drive the ambitious delivery of new technologies and innovative ways to reduce aviation emissions
funding for FlyZero, a research project carried out through the Institute of Aerospace Technology bringing together experts from industry and academia to determine the future viability, capacity and market for zero-emissions commercial aircraft from carbon
During the pandemic, aerospace companies have been able to benefit from the government's extensive business support measures, including furlough, the Coronavirus Business Interruption Loan Scheme (CBILS) and rebound loan. The aerospace sector and its aviation customers are being supported with nearly £11bn made available through loan guarantees, export support, the Bank of England covid Business finance facility and grants for research and development.
Projects
Details of projects funded today.
Led by GKN Aerospace ASCEND (Development facilitated by the aerospace and automotive supply chain) – Bristol
£39.6m investment over 3 years – £19.6m government grant, £20m from industry.
The consortium behind ASCEND aims to develop innovative technologies, processes and tools for the high throughput manufacturing of lightweight composites for sustainable aircraft, cars and future mobility. The project will focus on increasing automation and skills to support the reduction of carbon emissions in these industries. ASCEND will help support the rapid growth of the low-emission aerospace and automotive sectors as hybrid and electric aircraft and new mobility concepts become mainstream. The project will keep the UK at the forefront of this technological development and ensure that it remains competitive in the global market.
If successful, the project could help secure 729 design and manufacturing jobs by 2033 to 2034, with the majority based in Bristol and Dorset.
Led by Renishaw LAMDA (Large Scale Additive Manufacturing for Defense and Aerospace) – Gloucestershire
£26.4m investment over 4 years – Government grant of £13.2m matched by industry.
This project aims to develop a metal 3D printing machine that can be used to build larger aerospace components and mass-produce smaller parts. This will reduce costs by providing higher production rates. By exploiting superior material properties and innovative design, this will enable the manufacture of smaller and lighter components, contributing to net zero aviation.
If successful, the project could create or secure a peak of 240 design and manufacturing jobs in Gloucestershire, Wales, Blackburn, Bristol, Coventry and Poole.
Smarter tests led by Airbus – Filton, Gloucestershire
Investment of £10.6m over 3 years – government grant of £5.3m, matched by industry.
The Smarter Testing project aims to develop a new testing and certification process for aeronautical structures, which will combine virtual and physical testing to significantly reduce development time and cost. The partners intend to use this opportunity to build a 'Centre of Excellence' for smarter testing in the UK. This will rely heavily on the expertise and skills developed through this project by the industrial partners and on an extensive support network of academic and research organisations.
If successful, this project could help secure a peak of 98 consortium jobs in 2029-30 in Filton, Gloucestershire and elsewhere in the UK.
Led by Thales COREF (Connected Reconfigurable Plant) – Crawley and Belfast
Investment of £10.4m over 3 years – government grant of £5.2m, matched by industry.
This project will focus on Industry 4.0 ("smart") tools and processes for low-volume, high-complexity manufacturing, creating two open-access, digitally connected innovation labs. These will allow companies to increase the productivity and efficiency of their electronic system design and assembly processes, while reducing costs.
The Crawley lab will focus on digital innovation, while the Belfast lab will focus on manufacturing. These facilities will be accessible to the supply chain and to the public upon invitation by the partners.
COREF will create or maintain 25 research and development jobs over the life of the project and up to 18 manufacturing-related jobs after the project. These will be spread across the UK but concentrated around Crawley and Belfast.
LiveWire run by Q5D – Portishead, North Somerset
£1.7m investment over 3 years – £0.8m government grant, £0.9m from industry.
The wiring of planes, cars and many consumer electrical appliances is done by hand. This is an expensive and laborious process that is prone to errors that can lead to breakdowns and sometimes even fires. The goal of this project is to automate this complex process to reduce or eliminate the manual handling required. This will create lighter, more efficient cabling for higher performance, possibly at lower cost. Automation will bring safety improvements through repeatability and increased design analysis.
If successful, the project could help secure more than 300 jobs in R&Ddesign and manufacture by 2029 to 2030 in the UK across the project team and wider supply chain.