Alf-Helge Aarskog invests in Samherji's project to build a land-based salmon farm in Iceland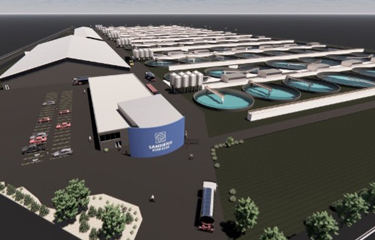 Samherji, based in Akureyri, Iceland, announced a $26 million (€25.1 million) equity investment in a land-based salmon farming project in Iceland, along with former CEO of Mowi, Alf-Helge Aarskog, appointed as new shareholder.
The funds will be used to build a pilot project in Öxarfjördur, Iceland, and to design and build a 40,000 metric ton salmon farm in the resource park next to Reykjanes Power Station in the Reykjanes Peninsula. The project was first announced in June 2021, with HS Orka named as the project's developer.
At the time, Samherji said the new farm will be developed in three phases over the next 11 years and will include a hatchery, growing farm, processing house and service buildings. In a May 12 update on the project, Samherji estimated the total investment needed to complete the project at around $340 million (€328 million).
Samherji is one of the largest vertically integrated seafood companies in Iceland, with a fleet of fishing vessels, processing plants and fish farms, with a specialty in Arctic char. The company exports under the "Ice Fresh Seafood" brand. The new land-based project will be managed by Samherji Fish Farming, the aquaculture division of Samherji.
Construction has already begun on the pilot project, which Samherji CEO Thorsteinn Már Baldvinsson says will double production capacity at the current Öxarfjördur facility from 1,500 metric tons (MT) of Atlantic salmon per year to 3 000 MT. The company plans to store juveniles on site in late 2022.
With regard to the large-scale farm,wWork on the environmental assessment and planning application is ongoing, but the design will be refined as the company continues to gain experience and skills in operating the pilot project, Baldvinsson said. . He said that work on the project will advance thanks to an already approved capital increase of 56.5 million dollars (54 million euros).
"Following the capital increase, a new board of directors will be elected at Samherji Fish Farming during the company's annual general meeting. Norwegian Alf-Helge Aarskog, former CEO of Mowi and one of the world's most experienced aquaculture experts, has invested in Samherji Fish Farming and will join the company's board," said Baldvinson. "Alf-Helge Aarskog's investment and board membership is not only a win for Samherji Fish Farming, but also for the Icelandic business as a whole. His board membership is, of course, course, a great vote of confidence for the staff of Samherji.Additionally, the expansion that has begun at Samherji Fish Farming marks a significant milestone, as it is the largest investment project in which Samherji and its affiliates launched during Samherji's 39-year history.
Aarskog issued a vote of confidence in Samherji's commitment to the Earth Project.
"The skill of the people of Samherji in fish farming and land-based agriculture is an excellent base. The fact that Samherji has been producing Atlantic salmon and Arctic char on land for a long time makes it the first land project I have looked at and can truly believe in," he said. "The site has abundant water and energy resources and I look forward to participating in further development and growth.
In 2020, the majority shareholders of Samherji transferred their shares to their children in the largest inheritance transfer in Icelandic history, worth between 60 and 70 billion ISK (446 and 520 million dollars, 430 and 502 million euros).
"We are fully committed to participating in the ongoing operations of Samherji. The business has a bright future and has grown and prospered despite various challenges. We now have a new generation joining us. adding value, providing work and job security and reinforcing the important values ​​of sustainability and responsible use of resources that have been Samherji's strategy from the start," Baldvinsson said at the time.
Photo courtesy of Samherji