Australian Hairdressers on the Best Gel-Free Hairstyles to Cover Your Oily Roots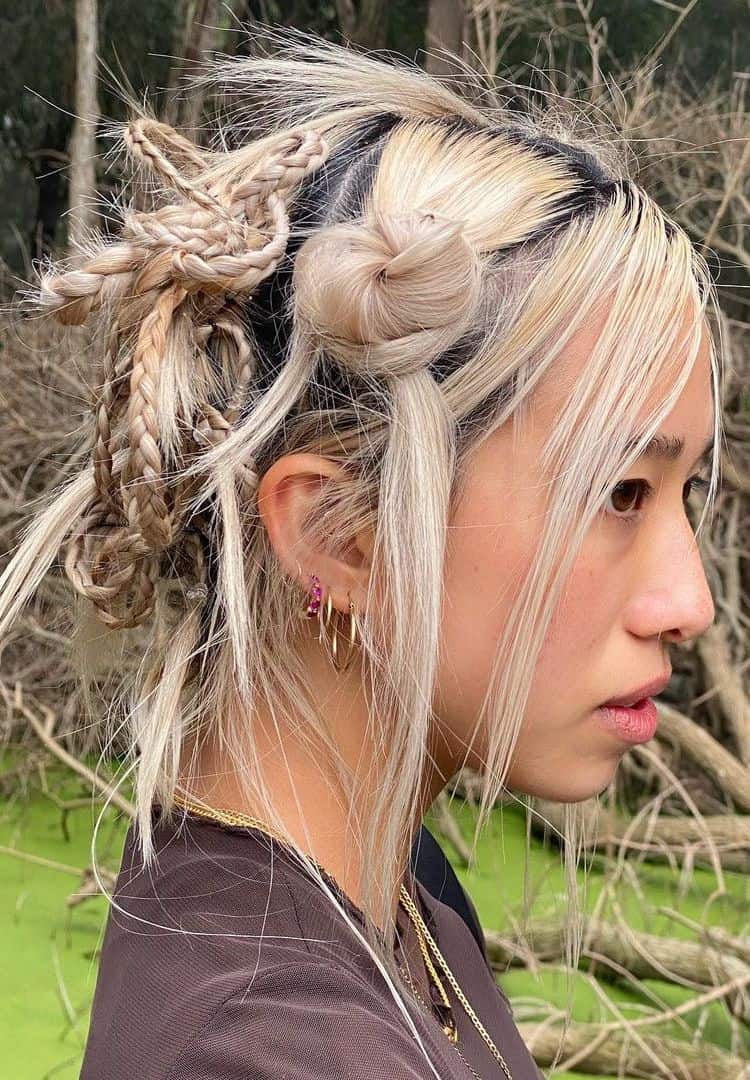 Non-slippery area.
I wouldn't describe myself as Great trendy (in my mind the word has the same mom feel as 'groovy' or 'funky'), but I like a trend. If you spend as much time bending over and browsing the internet as I do, joining a trendy train is sort of inevitable.
For the sake of the planet, I usually try to get away from the increasingly fast fashion cycle. Instead, I get my fix in the form of any hairdressing, beauty, or general lifestyle moment that I can participate in. I beaded a Y2K phone charm, I tried (unsuccessfully) to knit myself a vest and I wore blue eyeliner for the whole month of March.
---
For more hairstyling and beauty features, check out our Beauty section.
---
But let's not forget that trends are fleeting for a reason. Moving on to the next best thing isn't always as easy as wiping the eyeliner off your face. Seasonally changing my hairstyle and color has led me to some admittedly regrettable times (and some good ones too). I loved my Cruella-Esque Bleached Chunks and absolutely despised my blunt square.
A little pissed off by my Harry Styles hairstylist, I agreed to go a lot shorter with my bob than initially planned. He told me it would bring out my cheekbones (to which I'm sure I laughed childishly in response), but it surfaced instead of my inner chipmunk. Too short to wear in my usual messy little bun, I had to straighten it with gel, a small clip and a mass of bobby pins.
It was the origin story of my aversion to slicked back hair. Is there something about having all of my hair on my face that makes me feel weirdly… naked? And unfortunately for me we have Bella Hadid, Kendall Jenner and Dula Peep thank you for the major comeback the gel bun has made this year.
I would like to want to participate. This is quite simply the elite level hairstyle for those oily, unwashed root days. Instead of taking three minutes to straighten it, an oily hair day means meticulously shaping my hair with half a bottle of dry shampoo. And I got it!
If you, too, feel like a gummy haired rodent (or just craving new ideas), let the professionals help you. Independent hairdresser Dan Collins, Fawn Studio's Zac Dalí and Nina Ratsaphong from the Sydney show Extra silky Break down their dirty, non-slippery hairstyle tips.
Be messy
For the look to be intentional, bring back the natural waves. "I love applying my favorite dry shampoo to the roots and changing the part on the opposite side to make the hair look fuller," says Nina. "Then I use a sea salt spray or texture spray on the ends to create a great textured vibe. No one will know it's dirty if you ride with it!
And instead of struggling with what you have, Dan tells me we should welcome him with open arms. "Have fun with your hair and find out what makes you confident and beautiful!" Embrace your natural texture and work with it, not against it. A good fit and color will also work wonders.
the revival of the 90s
Mirroring what we've seen in fashion and beauty lately, hair is living a major moment of the '90s. "Braids are fun and there are so many different ways to do them," Zac tells me. "I love that '90s feel that I see a lot around Melbourne right now, low rise jeans and streaks in my hair. A few braids in the front on each side will hide those oily roots and look trendy. You can also make two big braids up to the nape of your neck and let them hang loose, or if you want to mix them up, you can wrap them in pigtails.
Dan gives a stylish tip for hiding those oily roots. "One trend that I love right now is bandanas! They're totally back and such a fun way to not only hide your fat roots from the world, but elevate a simple outfit too! Braids, braids, and several '90s buns are also always a vibe. A functional fashion statement is my favorite genre.
Braid lady
Speaking of braids, Nina shows me how to achieve that 'undone' (the opposite of smooth) look. "I would recommend teaching you how to braid!" You can do one or two and make it really classy and neat or loose and textured – then no one can see it's dirty! When I do this I usually pull back the wispy hairs around the hairline for a soft look.
If you are a beginner braider, it is important to prep your hair. "Dry shampoo is your best friend," says Dan. "Spray from a distance and blow dry with your hair dryer to loosen the product. Also, try to use a treatment at least once a week in your washing routine – Olaplex n ° 3 Where No. 8 are awesome! "
Add some flair
Our three hair experts say accessories are their favorite way to create an interesting updo. "Favorite styles to recommend for days when your hair is a little too dirty to wear are probably braids and clips," Zac tells me. "I love the clips! I like small clips, I like big clips, I like brightly colored clips. I think more clips are better than less! I couldn't agree more.
According to Nina, more is more. "Hair accessories always improve everything and help hide oily roots. I would suggest thick cool head velor headbands, random twists or braids pinned to the head with statement clips, pom pom hair ties, weaving ribbons or using hair clips in different sizes. There are so many great ones out there these days.
For those looking to reduce their waste, Nina adds an excellent environmental rating. "When sailing, keep in mind that many of these accessories are plastic, so try to buy ones that are built to last so that you are doing your part to be friendly with Mother Earth."
Lock in your wash program
Like "use heat protectant" and "avoid bleaching the scalp on your black box-dyed hair," "don't wash your hair every day" seems like one of those unwritten hair rules. And if we're talking about dirty hair, it's important to understand what "dirty" really means. So why avoid daily washing?
Nina breaks it down for me. "Your hair naturally produces sebum and the scalp needs it a bit, like our skin! If you remove this oil every day with shampoo, your scalp will produce too much oil and sebum, leaving you with more oily hair than a sporadic washer ". Naturally, the ideal number of washes for your hair depends on your lifestyle, hair texture, color, and skin type.
Instead of washing your hair more, try really washing it good. "My biggest shampoo tip is to always do two light shampoos rather than one," Zac says. "The first shampoo shouldn't lather and the second should – that's how you know you're using the right amount of product. "
For more oily and gorgeous hairstyles, go here.