Beata Heuman on how to create the perfect Christmas table and choose a palette for next year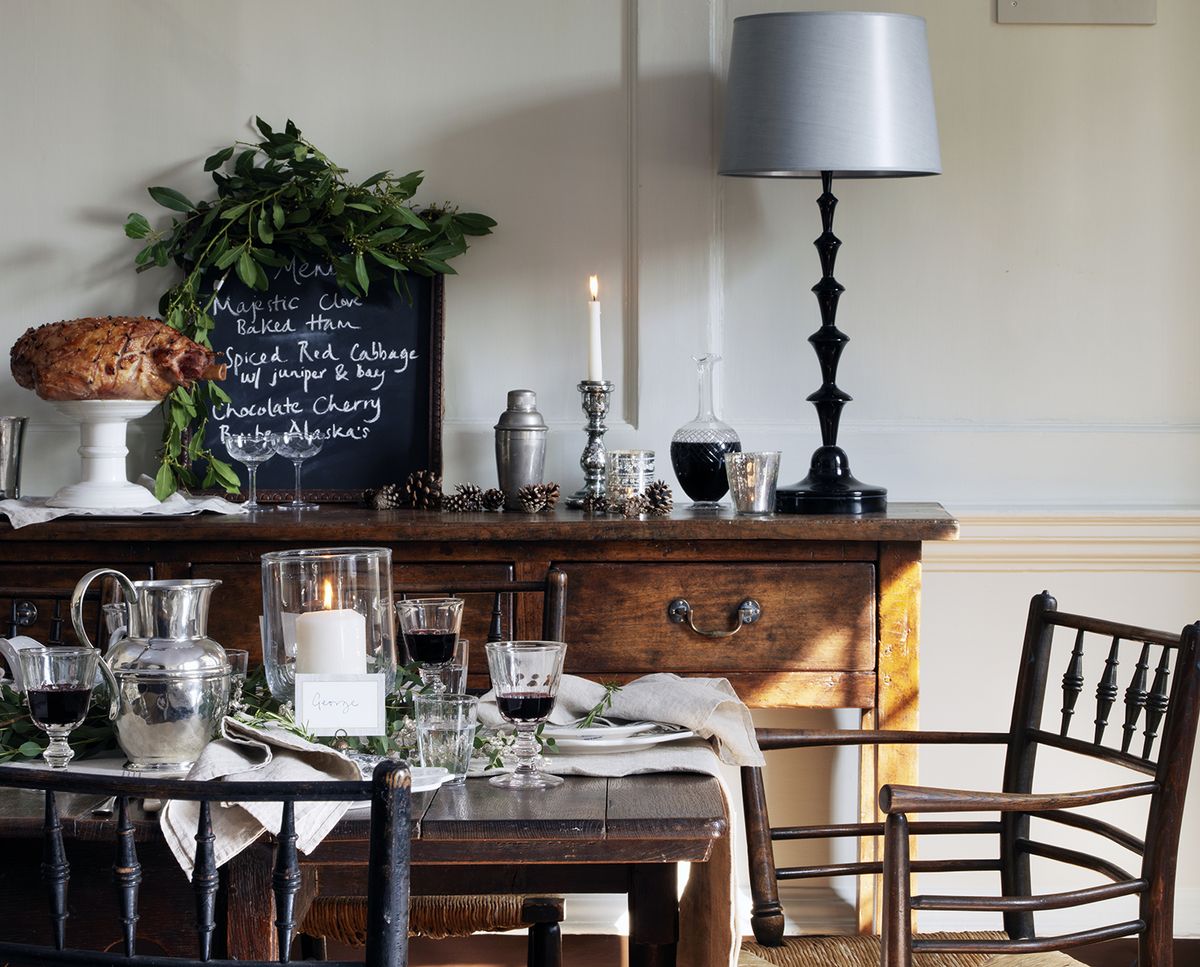 Last month I met famous interior designer, author and product designer Beata Heuman. We talked about everything from the evolution of her influential maximalist look for 2022, the colors she is in now, and how she puts her famous eclectic bedrooms together.
We also talked about her Christmas table decoration ideas that will help create a festive table to celebrate.
I've been a Beata fan for a long time. After spearheading the modern decorative style that many of us have embraced, designer Beata Heuman published her first book, Every Room Should Sing earlier this year. In addition to running a successful interior design studio, she has her own boutique, selling furniture, lighting and accessories, and has just launched her own fabric. Her use of color is legendary and hshe brings a sense of joy to every space she touches, through intelligent curation, a full understanding of how design works together and the knowledge that where you live should. lift your heart.
We chatted via Zoom, with Beata in Sweden at the summer house she is renovating, and found her design tips invaluable, for Christmas and beyond.
Rich in seeds: The last time I saw you was the weekend before the pandemic hit. I remember we hugged and a coworker said she didn't because of this new corona thing we were vaguely hearing about. Unbelievable! How have you been
Beata Heuman: I remember! Since then it has been running around the clock – I ran the studio and the store, finished the book, and promoted the book. We have just been in Sweden for six weeks, working on a summer house on my father's farm, renovating it.
RP: I also rearranged, and much of your book particularly touched me when it comes to the placement of decorative items and how to display items that have long been treasured. What was it about the book that resonated with readers?
BH: There's a quote from Diana Vreeland that I used that said, "A little bad taste is like a nice touch of paprika. I think we could use more – no taste is what I'm against. And people have tagged me in this a lot online. It gives you permission, I think, to be nostalgic, sentimental, and to display pieces that make you feel something. For this project, I found all kinds of things in my father's attic and gave them new life.
RP: One of my most vivid memories is when I talked about your ability to make "trash cans" feel special, and you – and rightly so – told me that the stuff you use in your projects were not garbage! I'm still so embarrassed about it – but what I meant was more dusty old heirlooms that others might overlook, you are often able to bring out the beauty. How are you doing that?
BH: I was only teasing you this time! You just need to be confident and only buy things from antique markets or auction sites if you really, really like them. When browsing eBay you need to be really focused on what you're looking for and really targeted with the keywords you've entered.
RP: I'm looking for travertine, constantly. What do you like?
BH: In fact, I'm stepping away from some of the stronger undertones I've been associated with. I now like a lot of soft yellows and ivories, cool blues. I never liked green and red together, thinking it looked too Christmas, but now I find it to be quite earthy. I love Little Greene's Bronze Red and Lemon Tree, combined with Farrow and Ball's Strong White and Stone Blue. The more dark blue you add to a diagram, the more it works.
RP: So, can I assume that red and green will be in the spotlight for you this Christmas? My big thing, which I keep saying in reportage meetings, is "Christmas like cashmere". I want the vibe this year to be familiar and heartwarming yet elegant and luxurious, lots of natural and soft textures, gorgeous light to envelop you.
BH: I like this. It's not about extravagant table settings or being overdone, but about mixing vintage pieces with new ones. The Christmas style should always be very doable. The best party tables are really simple – go for white candles, white napkins, fragrant foods like Swedish cinnamon buns. Plus, plant white hyacinths in simple bowls three weeks before Christmas and you can sprinkle them among the backdrops when they bloom on D-Day.
PR: It looks so lovely – much simpler than the Christmas centerpiece ideas I was thinking of. I also wanted to tell you about checkerboard floors, something I really associate with you, and one of the most decorative flooring trends around. Do you still love them?
BH: Yes, it's so classic in Sweden. I made two in this summer house, one in red and off-white linoleum in the kitchen and one in gray and brown stone in the bathroom.
PR: I think a lot of people are confused by soils – they feel like such a huge investment that you only make once.
BH: That's why rugs are so useful as a final ornament once everything else is in place. I use a lot of jute because I like the contrast, and it's the opposite of the more elaborate furniture that I tend to use. You can't go wrong with an interestingly curved sofa juxtaposed with a rustic rug that you don't have to worry about messing up while walking.
PR: I also think you can't go wrong with your bow handles – we've featured them a few times and seen them in countless homes we receive.
BH: Good handles really enhance carpentry, and since it's the thing you interact with the most in your kitchen, you want something beautiful every time you touch them. You can mix our bows with any of the others in the collection, and they are my answer for not wanting carpentry to be too expensive. In my book there is an entire chapter on the details and why they are important. A house really should be full of little things that give it a boost.