Can robotic boats save our oceans from poachers?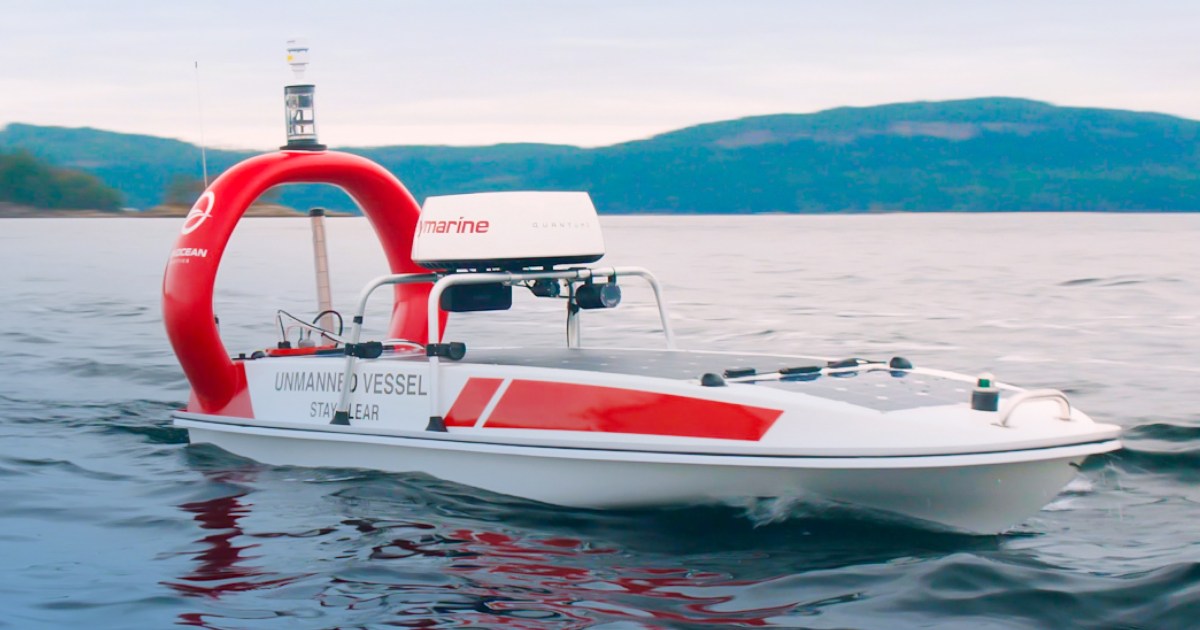 Earth's oceans are almost unbelievably huge. They cover 75% of the earth's surface, they contain the majority of all life on earth, and they are so deep and vast that we have only explored 20%. (We know more about the moon, a foreign celestial body, than about our planet's oceans.)
But it's even harder to understand the idea of ​​an Earth without a functioning ocean system. "Most of us can't imagine what it will be like when the whole ocean system collapses," says Colin Angus, CTO and co-founder of Open Ocean Robotics, a tech startup that builds self-driving boats.
The effects of ocean collapse cannot be overstated. If our oceans fail, humans will experience suffering on an unprecedented scale and life on earth as we know it now will cease to exist. And that's the future we face if we don't do a better job of protecting our oceans.
"If our fish populations collapse, if we lose our biodiversity, people will starve."

Colin Angus
That's why Angus and his wife Julie co-founded Open Ocean Robotics. The company's fleet of autonomous boats are designed to manlessly patrol the ocean, collecting a variety of data – from water temperature and salinity to echolocators capable of detecting the size of fish populations – in hopes of creating safer practices for ocean-related industries.
"Our goal is to help industries operate sustainably on the ocean," says Julie. "What we can't measure, we can't protect. What we cannot see, we cannot change. If we don't understand the impacts we have on our oceans, we will never change our behavior.
Oceans under threat
The Earth's oceans are subject to multiple threats. Overfishing threatens to deplete vital fish populations, which could have a cascading effect on the biodiversity of our entire planet. (If one species of fish disappears, all the species that depend on that species for food are in danger, and so on, all the way up the food chain.) Acidification, a symptom of global warming, threatens the viability of all the fish. in the ocean, as well as corals and vital ocean vegetation. And the waste and pollution in our oceans is eaten up by fish, killing them en masse.
These are just the issues we know about. Only 20% of our oceans have been explored, which means the chances of discovery and gaining new knowledge, good or bad, seem limitless.
Saving the oceans is a herculean task, which is why Open Ocean Robotics has embraced autonomous navigation technology. There simply aren't enough manpower available to effectively survey the oceans, but autonomous boats don't need human navigators. And because the self-driving boats are also completely solar-powered, they don't even have to stop to refuel.
Currently, ocean surveillance is carried out by crude vessels, which poses serious risks to the ocean. They burn diesel, a fossil fuel that contributes to global warming. They risk spilling oil into the ocean and the loud noises they make disturb fish populations. Crude oil transport vessels also require large crews and cost tens of thousands of dollars a day to operate.
Replacing a crude oil ship for just one week is equivalent to taking 100 cars off the streets for an entire year in greenhouse gases.
A labor of love
Open Ocean Robotics was born out of the Angus' deep love for the ocean. The Canadian couple spent five months crossing the Atlantic Ocean in a rowboat, making them one of the only people to ever circumnavigate the planet by human power.
"Spending day after day surrounded by the continuous ocean, you feel like you're living in a different world," says Julie. "You become very aware of the ocean and all of its states. It certainly had a lasting impact.
This 30,000 mile journey also brought them to solar powered boating. (The rowboat had an onboard solar-powered navigation system.)
The Open Ocean Robotics self-contained boat is a 250-pounder that can go far offshore and take on the toughest waves and storms. The boat is equipped with a variety of sensors that measure the weather, the depth of the ocean at a certain location, and the health of marine life. The boats also have a loudspeaker attached to warn surrounding vessels that they are getting too close to whales or other endangered species.
This level of autonomy has been made possible by advances in the capture and storage of solar energy. The solar panels atop the Open Ocean Robotics boat and the lithium batteries contained inside the autonomous boat allow it to be powered entirely by the sun.
"We make it easier, safer and more affordable for ocean industries to do business," says Julie. "To protect our oceans from practices like illegal fishing, we need to have better technologies than we have now, and autonomous technology is really our best bet in this regard."
The boats are also fully sealed, making them impossible to sink.
"If you imagine a bottle with a cork, it will never sink unless it breaks," says Colin. "If you look at a stormy situation, our boat is going to fall from the waves, from one end to the other."
The self-contained boat self-rights, using weights and buoyancy to rise upright after experiencing choppy waters.
While Open Ocean Robotics is designed to serve industry and provide insight into ocean logistics best practices, the ultimate goal is far more ambitious.
The Angus Company exists to save our oceans, and therefore the whole world.
"The oceans are our greatest carbon sink. We depend on them for food, transportation, communication, oxygen," says Julie. "If we don't stop the degradation, it will have a really deleterious effect on our health, the health of the planet and our economy."