DHS to start sending time off notices to 15,000 employees next week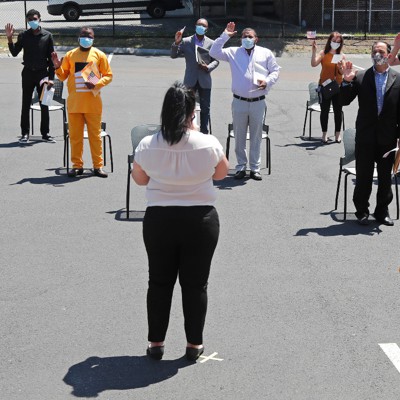 About 15,000 Department of Homeland Security employees will receive downsizing notices next week, warning them of upcoming holidays in July if Congress does not provide emergency funding.
The U.S. Citizenship and Immigration Services will send the notices to about three-quarters of their employees on or around June 19, according to several employees briefed on the process. The letters will take the form of a RIF notice despite the temporary nature of the leave because they result from a budgetary shortfall and are scheduled for a period of 30 days. If they go into effect, USCIS would have to extend leaves in 30-day increments until it receives credit from Congress or can raise additional funds through a fee increase.
Officials at USCIS, a fee-funded agency, told employees last month that a significant drop in claim receipts due to the novel coronavirus pandemic resulted in an unexpected loss of revenue, potentially leaving the agency unable to cope with the payroll. USCIS is asking Congress for a cash injection of $ 1.2 billion to help offset the losses and permission to increase its fees to pay off the credit by 10%.
A spokesperson for the House Appropriations Committee, however, said that on Thursday the Trump administration still had not made a formal request for emergency funding. The agency said it was having productive conversations with lawmakers, but had no new information to provide on the status of the formal request.
Leave notices are expected across USCIS ranks, employees with knowledge of the process said. Leaders have been tasked with determining which employees are needed to continue operating at 25% of their capacity. Management has estimated that it will run out of funds to operate normally on July 20 and will begin notifying employees 30 days prior to that date, as required by law. Holidays should not all begin on this date.
This week, USCIS issued a notice to employees reminding them of their ethical restrictions on accepting outside employment.
"USCIS employees remain federal employees and are bound by ethical rules even while on leave," the notice said. The agency reminded employees that they cannot receive compensation for anything involving official duties or that recognizes their official capacity in government, volunteering for immigration-related organizations, or disclosing related information. to their work that is not accessible to the public, among other restrictions. Employees should clear all outside work with the agency in advance.
Michael Knowles, an asylum officer and head of the American Federation of Local Government Employees who represents USCIS employees in the Washington area, said there were concerns that temporary RIFs could become permanent.
"Why do we think it is all over again when the president is doing all he can to stop legal immigration?" Knowles said wondering if USCIS 'budget issues would cover more than the current pandemic.
Joseph Edlow, deputy director of policy at USCIS, said in an email to employees last month that USCIS has already taken steps to "tighten our budget in all areas" and that those steps have been " acutely felt "in the agency's program offices, but were ultimately insufficient given the shortcomings. Government executive reported just before the pandemic, USCIS had implemented a hiring freeze for all immigration service positions.
While agency officials told employees the current financial problems were entirely linked to the coronavirus pandemic, as early as December, the agency notified applicants with job postings that their start dates were being delayed indefinitely. because "the field operations office is currently subject to a hiring freeze due to budgetary constraints in fiscal 2020. The decision to suspend hiring for most positions follows an increase in hiring at the 'USCIS for Asylum Officers. Ken Cuccinelli, acting deputy secretary of the Department of Homeland Security and also director of USCIS, announced last year that the agency would increase staff at its asylum office. by 50% and add hundreds of new support staff.
Employees and stakeholders questioned whether the pandemic was really to blame for the agency's financial woes, noting that the Trump administration's policies to restrict legal immigration have also had an impact on the collection of fees. the agency.
USCIS employees, their union and other stakeholders pushed Congress to resolve the funding situation. Knowles warned that if the leaves go into effect, the delays and backlog at USCIS "will skyrocket." The number of new asylum claims has more than doubled over the past five years and the current backlog is at an all time high.
Knowles also warned that the "lasting effect" of the budget crisis could be felt through a declining workforce and, possibly, a brain drain.
"We risk losing thousands of employees who say, 'I can't afford to be put on leave'" and find new jobs, he said.
This story has been updated to correct how USCIS informed employees of their ethical obligations while on leave and to clarify the nature of its request for increased fees.