Early Tuesday fire results in total loss of longtime boat repair business on Radio Island | News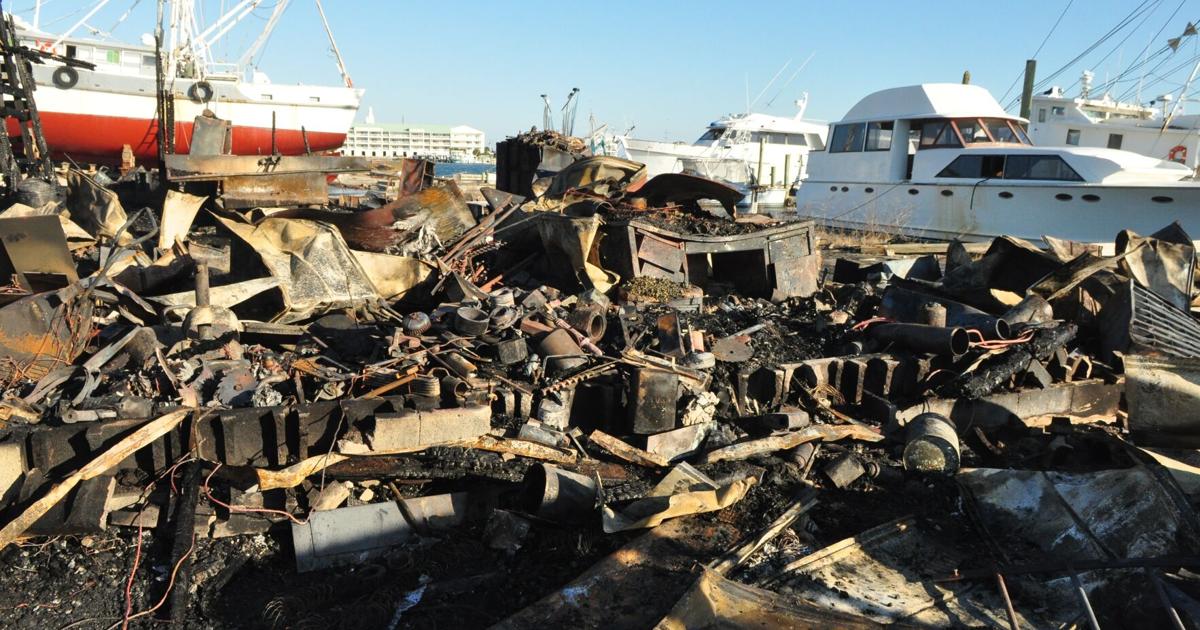 BEAUFORT — A longtime boat repair business burned down early Tuesday morning, leaving owner James Gillikin, 79, to sift through the ashes.
'I don't have insurance and probably lost $250,000 in equipment and paint,' said Mr Gillikin, who has been in business for more than 50 years, as he surveyed the smoldering debris at the Gillikin Marine Railroad, 195 Morgan St. on Radio Island. He rented space in the building to operate his business.
County Fire Marshal Eddie Lewis said Tuesday morning he has yet to determine the cause of the fire, but said: 'I have an area of ​​interest where I think it started. at the rear of the rear part of the building. I can say that the building is a total loss.
The structure contained paint, welding equipment, a forklift and other flammable materials. The building is located near several large fishing boats and yachts, some of which Mr. Gillikin had just finished painting.
Mr Lewis praised the Beaufort Fire Department and other departments who helped contain the blaze away from the ships. Additionally, no injuries were reported.
"We have a large ship about 100 feet from the building. If it had caught fire, we would have looked at a situation like a condo fire," Lewis said.
According to a news release from the Beaufort Fire Department, the call for fire came at 2:43 a.m. Tuesday.
"Upon arrival, heavy smoke and fire were billowing from a single-story boat repair facility," the statement said.
Firefighters were able to bring the blaze under control at 5:52 a.m.
"At this point, overhaul operations have been conducted and additional hotspots have been extinguished," the statement said.
The Beaufort Fire Department cleared the scene at 7:56 a.m. and the area was turned over to the Carteret County Fire Marshal's office to determine the cause.
In addition to the Beaufort Fire Department, the Atlantic Beach, Harkers Island, Morehead City and North River Fire Departments, as well as Beaufort EMS, were dispatched to the scene.
The Salvation Army was on site most of the night until Tuesday morning, serving hot coffee and donuts to first responders.
"I can't thank the Salvation Army enough," Mr Lewis said. "When you're out in 32 degrees fighting a fire, that hot coffee and support means a lot."
As for what the future holds for Mr Gillikin, who lives on Harkers Island, he said he was trying to restore power to a boat launch next to the building to launch a large ship he had just finished painting.
"The boat had just been painted and we were preparing to launch it," he said. "I want to make sure we can get this one back in the water."
Mr Gillikin said he also faced other challenges. His wife is in palliative care.
"We've been married 62 years," he said.
Mr Gillikin added that this is the third time he has lost a boat business to fire. He started with a family business on Harkers Island, which he says burned down, as well as a second business destroyed by fire years ago.
He said he rented the property for his current business from Radio Island Rental Properties, part of David Eudy Properties LLC of New Bern.
"I don't know what I'm going to do," Mr. Gillikin said. "I guess you just picked up the pieces and started over."
Contact Cheryl Burke at 252-726-7081, ext. 255; email [email protected]; or follow on Twitter @cherylccnt.