Final approval for the South Fork Wind project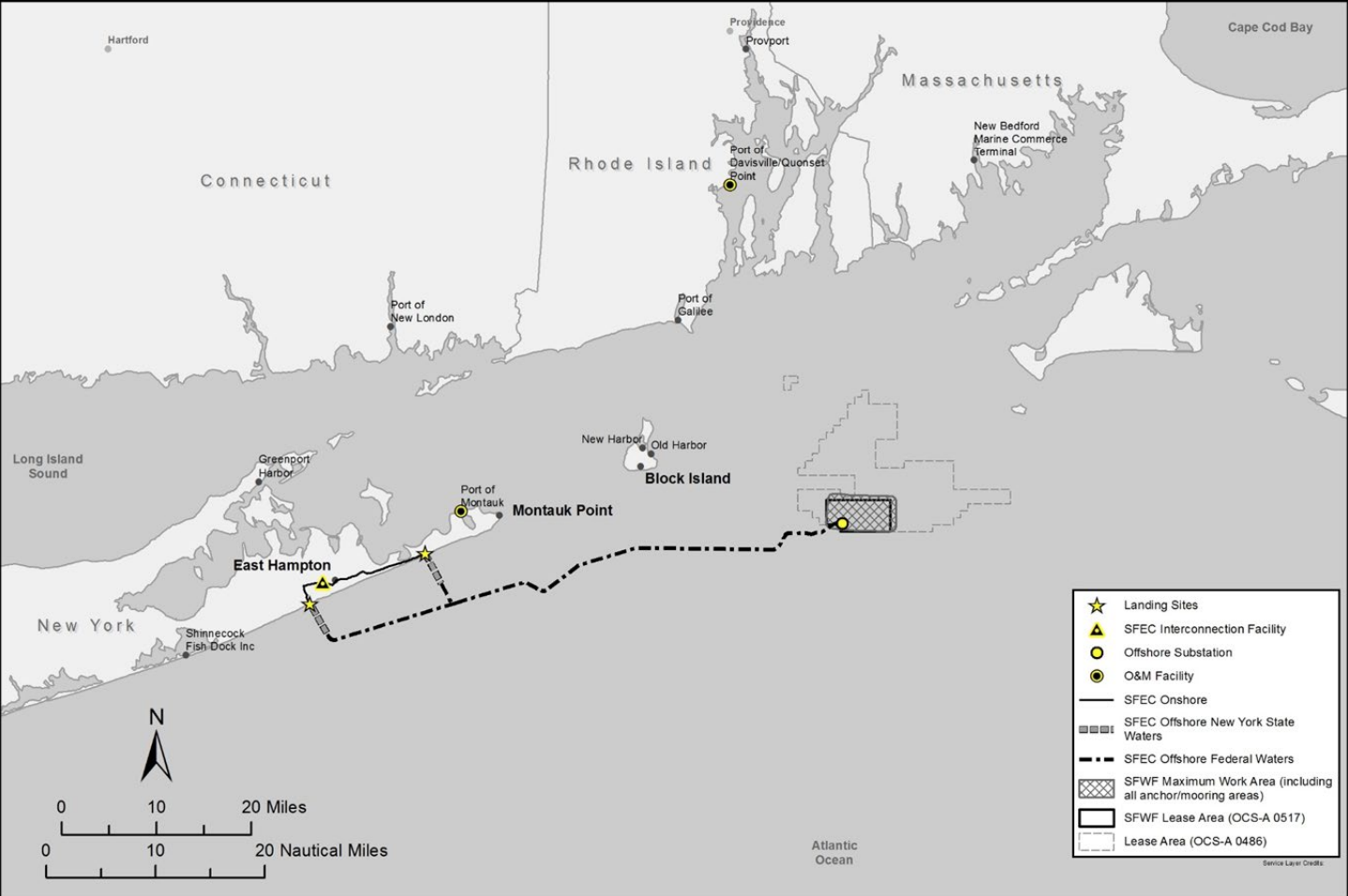 January 20, 2022
The South Fork Wind Energy Project 35 miles east of Montauk, NY, won final approval on January 19 to begin construction, lining it up to be the second offshore wind array in the waters. federal.
The Federal Office of Offshore Energy Management has approved the construction and operating plan for South Fork, establishing 1 nautical mile spacing between a dozen 11-megawatt Siemens-Gamesa turbines and certain designated areas in the area federal lease to preserve bottom habitat for marine species.
Installation of monopile foundations and turbines is scheduled for summer 2023. Developers Ørsted and Eversource's 132 MW project is seen as a keystone by New York State energy planners to bring electricity future on Long Island – potentially for 70,000 homes by the end of 2023 – as they look to even larger offshore projects to power the New York metro area.
"This milestone underscores the huge opportunity we have to create a new industry from the ground up to drive our green energy economy, bring clean energy to millions of homes, and create good jobs across the state. ", New York Governor Kathy Hochul said in a statement. statement after BOEM approval. "As we tackle climate change head-on and transition to a clean economy, these are the projects that will propel our future."
BOEM and wind developers continue to face fierce resistance from the Northeast commercial fishing industry. In December, the Texas Public Policy Institute filed a lawsuit in federal court on behalf of fishermen in New York, Rhode Island and Massachusetts, accusing BOEM of circumventing environmental review requirements when it approved the construction and operating plan for Vineyard Wind, the first wind project. in federal waters to be constructed east of the South Fork section.
Offshore wind advocates insist on the economic effects of South Fork in the future, such as a recent agreement between developers and Long Island company Haugland Energy Group LLC to build part of the onshore transmission system that will create more 100 jobs. This work includes the installation of a conduit bank system for the project's underground terrestrial transmission line and the main construction of the terrestrial interconnection in East Hampton, NY
Domestically, the project draws export transmission cables manufactured in South Carolina, an offshore substation under construction by Kiewit Offshore Services, Ltd. in Texas, and a 260-foot wind utility vessel, the first vessel of its type under US flag, under construction. by offshore services operator Edison Chouest.
"While local labor will be instrumental in construction and operation, the South Fork project shows how a unique offshore wind project creates hundreds of well-paying jobs across the country as chains of "Manufacturing and logistics supply extends deep into the United States," said Ross Gould, vice president of supply chain development at the Business Network for Offshore Wind. "This localization of a supply chain is critical and needs to be better supported by policy makers to ensure projects move forward in a cohesive manner and economic benefits are captured nationally."
David Hardy, CEO of Ørsted Offshore North America, said, "South Fork Wind is already contributing to a new era of manufacturing and a statewide and US marine industry, including union jobs. well paid thanks to our work partnerships and our vision of the industry".
New York's offshore wind funders include an alliance of state energy planners, environmental groups, and the state's politically powerful organized workforce.
"With this historic announcement, we have the green light to begin construction on New York's first offshore wind project," said Mariah Dignan, Long Island Regional Director for Climate Jobs NY & Climate Jobs NY Education Fund. "Through years of thorough planning and Ørsted/Eversource's engagement with unions, environmental groups and local community members, we will create hundreds of good union jobs while bringing new, zero-emissions energy to residents of Long Island.
"Today's approval of the Ørsted and Eversource Construction and Operating Plan firmly anchors the organized workforce in an entirely new offshore wind industry," said Matthew Aracich, President of Building and Construction. Trades Council of Nassau and Suffolk Counties, AFL-CIO. "Building tradespeople are eager to embark on this new career path and play a vital role in bringing this monumental project to fruition.
Ørsted and Eversource say South Fork "will be built under industry-leading project working agreements and specific partnerships with local labor organizations, ensuring local labor participation in all phases of construction of the Site preparation and onshore activities for the underground conduit bank system and interconnection installation of the project will be the first to begin and will involve construction labor from hiring offices local unions.