Fishermen say surveys of winds at sea destroy gear: "There must be responsibility"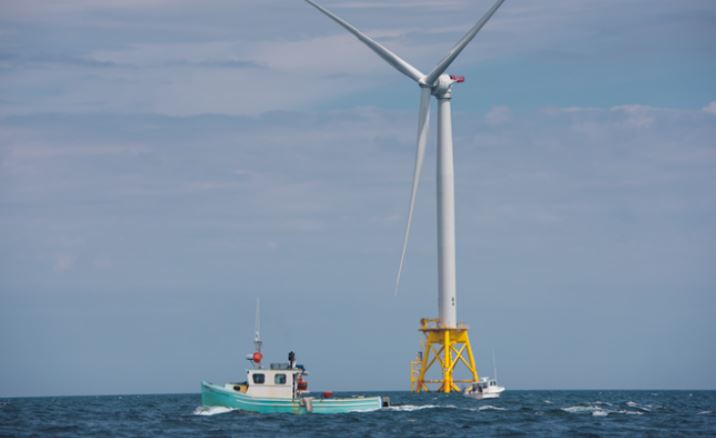 East Coast fishermen said their gear was ripped apart by investigative vessels working for offshore wind power developers, as the Federal Office of Ocean Energy Management opened its public process to mitigate the impact of the newcomer industry on seafood suppliers.
Conch fisherman James Hahn said he saw a survey boat pass over its traplines off Maryland and hailed the vessel on VHF radio.
"They said they had the right to investigate," Hahn told BOEM officials in a Zoom Online meeting on Monday. "I finally had to get in front and turn my boat on its side to make them stop.
Developers US Wind have informed fishermen in the Delmarva area that further prospecting is planned for December and gear conflicts are possible, Hahn said.
"That's not how we work with fishermen," he says. "Basically they're taking over the ocean and they're not making fun of us anymore."
Gear conflicts make it difficult for BOEM and the wind industry to work with fishermen, warned Fred Mattera of the Rhode Island Commercial Fishing Center.
"There has to be some accountability," Mattera said. BOEM's use of email updates and online meetings is not reaching enough fishermen to give the agency a full picture of the changes offshore wind will impose on the industry, he said. he declares.
"The workshops provide an opportunity where we can bring people into a room," he said.
Monday's online session focused on fixed gear, such as fish traps and gillnets, one of a series that BOEM Renewable Energy Chief Jim Bennett says is a prelude to the 'development of a "clear process for mitigation of fisheries by summer 2022". The agency plans to release a draft guidance document in the spring, he said.
The aim is to "avoid, minimize and compensate" for the effects of the development of offshore wind farms on fishing companies, said Brian Hooker, BOEM analyst.
But he said BOEM does not have the authority to put in place a federal or regional mitigation plan; its guidelines will only apply to individual offshore wind projects.
The overall impact will be immense, said Meghan Lapp of Seafreeze Ltd., the Rhode Island squid processor.
"Rhode Island's (mitigation) process was a joke," with reimbursement estimated to be well below projected revenue losses, Lapp said. The industry will "need 100% compensation for projects that BOEM has approved or will approve in the future," she added.
With construction timelines likely spanning eight to 10 years for projects in southern New England, "you won't be able to fish there," Lapp said. "BOEM is rushing through this compensation process without a single workshop. "
The displacement of fishing effort – forcing fishermen to leave the areas as the turbines are built – is of great concern.
"When one group is moved – and that's the way it always has been – they're going to move another group, like a domino effect," said Kevin Wark, gillnet captain for Barnegat Light, NJ. "Every fishery has a footprint out there, and I can't stress that enough."
Wark said he was also worried about shocks to the industry's infrastructure.
"Are we going to be able to survive a bad year, while everyone figures out how to fish around these things?" " he said. "Everyone knows that real estate values ​​are skyrocketing. How long will it be before there is a bass and sport fishing marina where our fish shop was located? "
Wark recommends Automatic Identification System (AIS) transponders on each turbine tower for safe navigation. Without that, "if I have to declutter (the radar image) it will lose some of the small scale targets, and that's a problem," he said.
The fishermen said their experiences with the survey vessels did not bode well for future relations. Joe Wagner, a mid-Atlantic bass trap fisherman, said he first lost traps in an investigative tow about three years ago, and 100 more recently for which he had not filed a claim based on his previous experience with developers.
"If you move me from that low I'm going to have to move my gear to someone else's," he said. "You should put these things (turbines) about a mile from the beach, where neither of us fish."
Off the east end of Long Island, New York, fishermen are trying to get compensation from wind developers for lost gear, said Bonnie Brady, executive director of Long Island Commercial Fishing Association.
When these disputes arise, "there is no disclosure by the developers," Brady said. "They don't give you anything."
Brady helped a lobster fisherman with a claim for $ 1,800 for two lost trap trawls. In response, he received a 10-page response from a third-party consultant who claimed the investigation vessel was far from his equipment, she said.
With the burden of proof thrown on the fishermen, "it's basically the tail on the survey boat," she added.
In Denmark – home of wind developer Ørsted – fishermen are compensated for the loss of access to fishing grounds, "clearly better than what we have here, which is nothing," Brady said.
"They have a legal requirement that we don't have," replied Hooker, an analyst at BOEM.
New Jersey captain Brick Wenzel said he heard fishermen and investigative captains arguing over VHF Channel 16.
"Imagine what it's going to be like when you have hundreds of ships" working around wind turbine projects, he said.