Heavy rains hit Makran coast as Cyclone Shaheen – Journal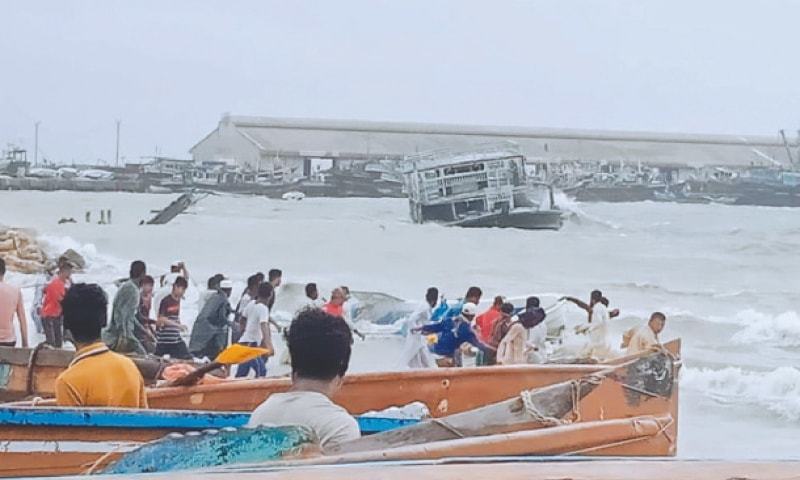 GWADAR: Cyclone Shaheen, originating in the Arabian Sea, caused heavy rains and thunderstorms in coastal areas of Gwadar, Pasni, Ormara and Jiwani on Saturday, damaging scores of fishing boats, homes and shops .
More than three dozen fishing boats anchored on the coasts of Gwadar and Pasni were destroyed when giant waves hit coastal areas.
At least 16 people were injured when a passenger coach traveling to Turbat from Karachi overturned on the coastal road.
A truck loaded with various items was washed away by floodwaters on the highway.
Waves and heavy rains hit Gwadar, Pasni and Ormara and water entered shops and homes, leaving many homeless.
Reports suggest Pasni has been hit hard. Dozens of homes were damaged as 5 to 6 feet of rain and seawater entered the homes. Rainwater also entered the bazaars in Pishin town, causing heavy losses to traders and traders.
Power has been suspended in Gwadar town and other areas of the district. Solar panels were also hit and most areas were dark.
Heavy rains accompanied by thunderstorms began at midnight between Friday and Saturday and continued until late Saturday evening with brief intervals, causing high tides to sweep the coastline.
"Although… Shaheen did not reach the Makran coast, its effects could be seen in coastal areas," an official told Dawn.
Many fishing boats and rowboats were missing. Local administration and fishermen were trying to move their remaining fishing boats to safer locations along the coasts of Gwadar and Pasni.
Posted in Dawn, le 3 October 2021