Marine Fisheries Division develops application to report recreational catches | New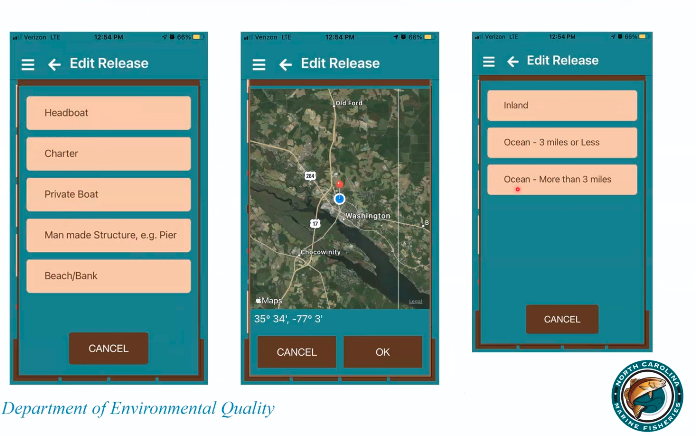 MOREHEAD CITY – Some North Carolina recreational fishermen may soon have a new way of providing fishery managers with data on their catches.
The NC Marine Fisheries Division is working on a new application for smartphones and similar devices to allow recreational fishermen to report their catches and landings. The app, which DMF Inshore Fisheries Program Director Andrew Cathey calls Catch-U-Later, is being developed to supplement information from the National Oceanic and Atmospheric Administration's National Marine Fisheries Service Marine Recreational Information Program. , or MRIP. The program is an intergovernmental partnership that develops, enhances and implements a national recreational fishing survey network.
The NC Marine Fisheries Commission met online on May 20 via Zoom. Mr. Cathey briefed the committee on the division's progress in developing the app.
"The purpose of MRIP is to estimate the total recreational catch," said Cathey. "There are two main elements, the fishing trips… and the number of catches per trip."
For its part in the MRIP, the division conducts dockside interviews with anglers, as well as mail surveys of recreational fishing license holders. However, Mr Cathey said DMF was "extremely proactive in improving MRIP data".
To that end, he said the division wanted to take a "citizen science approach". The Catch-U-Later app is designed to allow participating anglers to report where and when they catch a fish, its size and species.
As of May 20, the DMF is preparing the app for user testing, which will begin in one month to six weeks. Mr Cathey said the division uses its license database to select participants at random and that around 500 anglers have indicated their willingness to participate.
He added that these responses were distributed "fairly evenly" along the coast.
"It's really important that we get representation from all levels of greed (of fishing)," he said.
Mr. Cathey told the News-Times instead of making the app openly available, DMF staff will use a panel method to continue selecting participants from license data after development is complete.
"We plan to try to entice people with things like freebies," he said. "The idea is that we will have this tool that we and our partners will have for acute management action."
One of the most notable data gaps relates to recreational releases, according to Cathey. He said that with the current data sources they have – namely interviews and dockside surveys – it is not known how many recreational discards there are, especially below the minimum size limit for a species. given.
"The only people with information on discards are the fishermen," he said.
Part of the difficulty is that many recreational anglers on the North Carolina coast rarely fish. Mr Cathey said more than 47% of recreational fishing effort comes from anglers who make 10 or fewer fishing trips per year.
MFC recreation industry member Tom Roller expressed his support for Catch-U-Later, calling it "fantastic" and "very forward thinking" at the May 20 meeting. CMF president Rob Bizzell agreed.
"We all live and die on data," said Bizzell. "Hopefully at some point we can designate a place where we can mandate fishermen to use the app to report their catches before removing them from the boat."
The DMF app is not the first fisherman reporting app developed by fisheries managers. The South Atlantic Fisheries Management Board – an interstate management agency with jurisdiction in federal waters off the south Atlantic coast, including off North Carolina – has its own app accessible to the public. public, MyFishCount.
Contact Mike Shutak at 252-723-7353, email [email protected]; or follow on Twitter at @mikesccnt.