McDonald's Filet-O-Fish just got a vegan makeover at this burger chain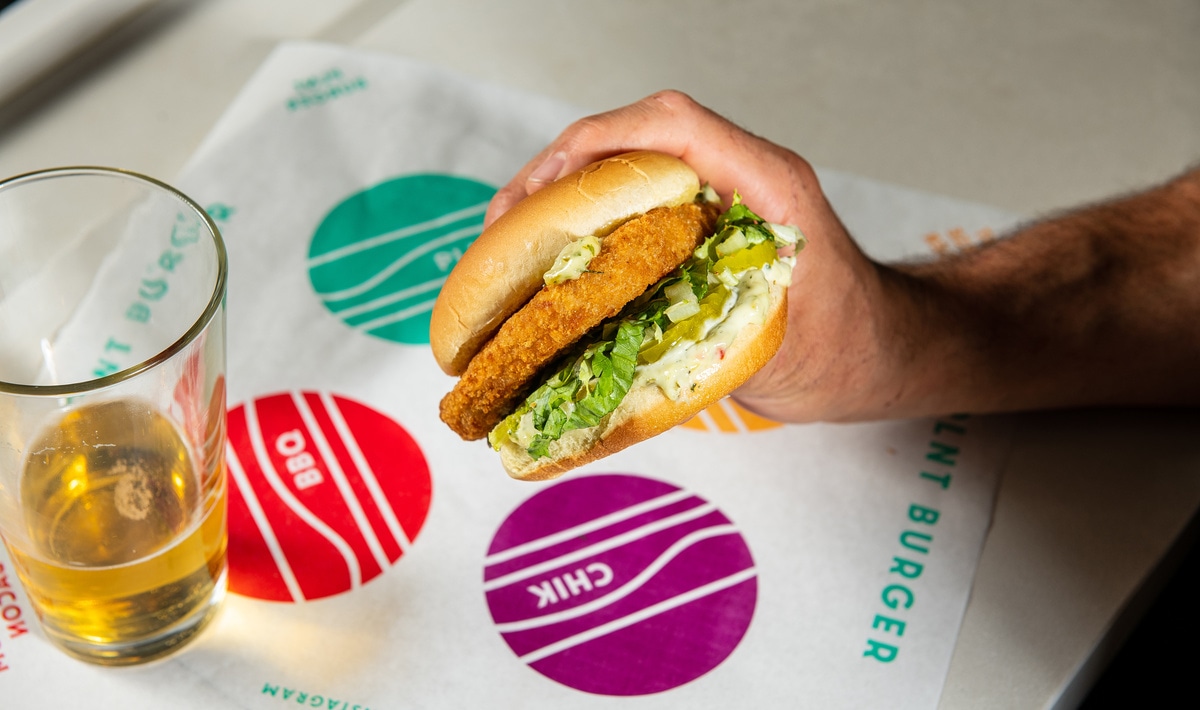 Starting July 11, a vegan version of McDonald's Filet-O-Fish sandwich will be on the menu at fast food chain PLNT Burger. Created by celebrity chef and PLNT Burger owner Spike Mendelsohn, Save the Bay Filet features all the seafood flavors of the cult fish sandwich, but is prepared without harming the animals or the ocean. The sandwich consists of a plant-based breaded fish patty prepared by the vegan brand Good Catch and is topped with pickles, shredded lettuce, PLNT's homemade tartar sauce and is served on a potato bun. .
"The Save the Bay Filet is a truly incredible showcase of plant-based innovations now available to the general public through great supplier partners like Good Catch Foods," said Mendelsohn. "It combines all the flavor, texture and lightness of a crispy fish fillet, and we dress ours in a classic combination… a perfect summer special.
A vegan Filet-O-Fish to win
McDonald's Filet-O-Fish describes its sandwich as "fish from sustainably managed fisheries" and also includes a tartar sauce, as well as processed American cheese. After the recent documentary Maritime piracy to shine a light on the global fishing industry, including the often murky waters of so-called 'sustainable' fisheries, Mendelsohn created the vegan Save the Bay Filet to provide a truly sustainable fish burger option for people looking to end to their support for the destructive global fishing industry.
The chef's mission is shared by the plant-based brand Good Catch, which creates irresistible vegan seafood using its proprietary blend of six legumes. Founded by vegan brothers and chefs Chad and Derek Sarno, Good Catch's product portfolio includes bags of vegan tuna with Mediterranean flavors, naked in water and in oil and herbs, as well as fish-free cakes in New England-style plant-based, Thai-style plant-based fish-free cakes, and classic-style plant-based fish-free burgers. The brand launched its breaded line of vegan fish sticks, crab cakes and fillets, the latter of which was featured at PLNT Burger, at select retailers in June.
"Our plant-based breaded fish fillet from our new breaded line has pushed culinary boundaries to deliver the taste and texture consumers expect from seafood," said Chad Sarno. "As more buyers realize the environmental impact of seafood, we are delighted to offer PLNT Burger customers a delicious alternative to seafood with Save the Bay tenderloin. "
In April, Good Catch's parent company Gathered Foods raised $ 26.35 million, in addition to the $ 36.5 million it raised from famous investors, including Paris Hilton, last year. , to finance its expansion. The brand is also in a joint venture with Bumble Bee Foods and will leverage the tuna giant's sales, distribution and logistics expertise to make Gathered Foods vegan seafood accessible to a wide range of customers at great prices. affordable.
Spike Mendelsohn's growing vegan chain
The Save the Bay Filet is Mendelsohn's latest creation at PLNT Burger, which he opened inside a Whole Foods Market in Silver Springs, MD in 2019. Known for his numerous appearances on Food Network and Bravo's Excellent chef, Mendelsohn was inspired to enter the herbal business after meeting Seth Goldman, the former executive chairman of Beyond Meat, who introduced him to the Beyond Burger. While PLNT focuses its offerings on Beyond Burger creations, the menu also features vegan sandwiches made with fried oyster mushrooms that replace chicken and a smooth, creamy serve that replaces dairy with oat milk.
Since opening its first location, Mendelsohn has aggressively developed PLNT Burger inside Whole Foods Markets in several states, with plans to open stand-alone restaurants this year. In May, PLNT (pronounced "planet") opened its eighth site in Jenkintown, Pa. And named its co-founder Ben Kaplan as CEO. "Since the founding of PLNT Burger, our vision has been to create the best burgers on the planet and for the planet," said Kaplan. "By creating delicious dishes that will satisfy even the most discerning carnivores, we are changing the way people eat their vegetables. And we're helping people reduce their carbon footprints and improve their health, one bite at a time.
Earlier this year, Mendelsohn and Goldman transferred their philosophy of "eating the change" to a brand of vegan jerky, called Eat the Change Mushroom Jerky. Created to provide a sustainable, cruelty-free alternative to beef, the duo's new mushroom jerky is available at a variety of retailers nationwide in five flavors: Sea Salt + Cracked Pepper, Hickory Smoker, maple mustard, Habanero barbecue and teriyaki ginger. .
Love the vegetable way of life as much as we do?
Get the best vegan recipes, Trip, celebrity interviews, choice of products, and more within each number of VegNews Magazine. Find out why VegNews is the 1st vegetable magazine by subscribing today!