Russian government and retailers seek ways to boost domestic demand for fish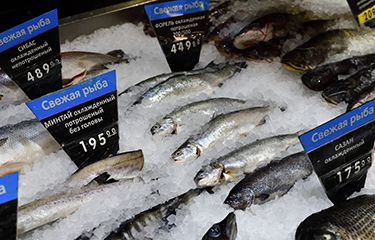 The Russian government is working with seafood retailers and producers to find a way to increase domestic demand for seafood caught in Russia.
Russia has faced an oversupply of seafood since late 2020, when the COVID-19 pandemic led China to significantly tighten its imports of Russian seafood. Before the move, China accounted for 60% of the Russian pollock market.
The shutdown of the Chinese market has had a dramatic impact on Russian seafood exports. China has been supplanted by South Korea as Russia's top seafood export destination, and Russian authorities and fishing companies have launched a global pollock marketing campaign called "The Fish. Russian".
Domestic consumption of pollock in Russia is low – typically no more than 130,000 tonnes – and consumption has been declining for years, Fisheries Union president Alexander Panin told Regnum news agency. Per capita seafood consumption in Russia was 20 kilograms in 2020, but Panin said the calculation was based on the volume of raw materials sold, not sales. Panin said he estimates the per capita consumption is only 13 kilograms, and that figure has declined by 27% in the past seven years.
The results for 2021 should be even less promising, according to Panin. While the value of seafood sales in Russia increased, the volume decreased in the first half of 2021 compared to 2020, according to a survey by GfK Rus. Seafood prices rose 8.9% in the first half of 2021 compared to 2020, reaching 313 RUB (4.21 USD, 3.74 EUR) per kilogram, but the sales volume per customer fell by 3 , 2% and total sales fell 2.5%.
In the first half of 2021, Russian seafood began to issue warnings. Wholesale prices are likely to increase by 15% in the second half of 2021 due to rising costs for raw materials, packaging and logistics. Norebo Deputy Director of International Affairs and Public Relations Sergey Sennikov said that the cost of fishing and boat maintenance have also become expensive, according to Kommersant.
The Russian Federal Fisheries Agency attempted to increase domestic consumption and reduce pollock glut by purchasing thousands of metric tonnes from the state government. However, the first deputy general manager of the Russian Fishery Company, Savely Karpukhin, said the government purchases would cover less than a third of the surplus. He said state purchasing programs would be more effective if they regularly purchased larger volumes of up to 100,000 MT.
Sennikov suggested that the state buy more fish for schools across the country, which would both offset the large supply and encourage the consumption of seafood at an early age. The president of the Primorye Fisheries Association, Georgiy Martynov, in an interview with Fishnews, estimated that the possible need of state institutions could reach 700,000 tonnes – if the government pushes to increase domestic purchases of seafood.
Cost has long been an obstacle to the growth of seafood consumption in Russia, hampering previous efforts to increase domestic consumption. However, cost increases across all food categories in 2021 appear to do even more damage to the cause. Until November 20, consumer prices rose 8% overall in Russia. The main driver of this inflation was food, according to government statistics. Food costs increased 10.58% year over year, with commodities like cabbage increasing 87% year over year, potatoes 74%, cucumbers by 60% and tomatoes by 58%.
Seafood has so far avoided dramatic price increases, but the rising cost of other staples may keep customers from splurging on seafood.
Russians also seem to prefer red meat and chicken to seafood. In 2021, research firm Platform conducted a survey of urban Russians regarding their seafood consumption. Of those polled, only 37% said eat fish at least once a week, most preferring chicken and meat as a source of protein. However, the survey also found that 80 percent of those surveyed believed that eating fish was good for you and that children should eat fish for a healthy life.
"There are a lot more people who would like to buy fish than now," the platform's chief executive, Mariya Makusheva, told Fishnews news agency. However, she said, the main stumbling block is price, which was mentioned as an inhibiting factor by more than 70% of those surveyed.
Retailers are also trying to sell more seafood. Sergey Ermolaev, fresh food category manager of the Magnit retail chain, said in a speech at WorldFood Moscow 2021 that his company wants to increase sales in the segment by offering more. of high-quality produce and selling seafood under the chain's private label – a decision that will require direct contracts with processors.
"This will allow us to control prices and mitigate seasonal increases in costs," he told Retail.ru news agency. Magnit also focused on selling semi-finished or ready-to-eat products to save consumers time.
Yulia Galieva, fresh food category manager at Russian retailer Komandor, told Retail.ru that the company has also started manufacturing semi-finished seafood in its stores. Sales for the category increased 14% in 2021, and the top seller was in-store grilled mackerel, herring and perch.
Panin said he expects the industry to turn to more prepared products, to serve consumers who prefer convenience and avoid having to handle raw fish.
"In a few years, consumers will not want to spend time even on the net. They want semi-finished or ready-to-eat products, with sauces, special additions and flavors, "he said. However, Panin said value-added production capacities are currently limited in Russia.
Seeking to meet the growing demand for prepared fish products, Russian Fishery Company and others are striving to increase their value-added processing capabilities. The supertrawlers foreseen by the RFC are intended to be more modern, with a greater capacity to produce processed products like surimi and fillets.
Photo courtesy of BestPhotoPlus / Shutterstock