The Ocean that Binds Us: How Indigenous Collaboration Helps Protect the Moana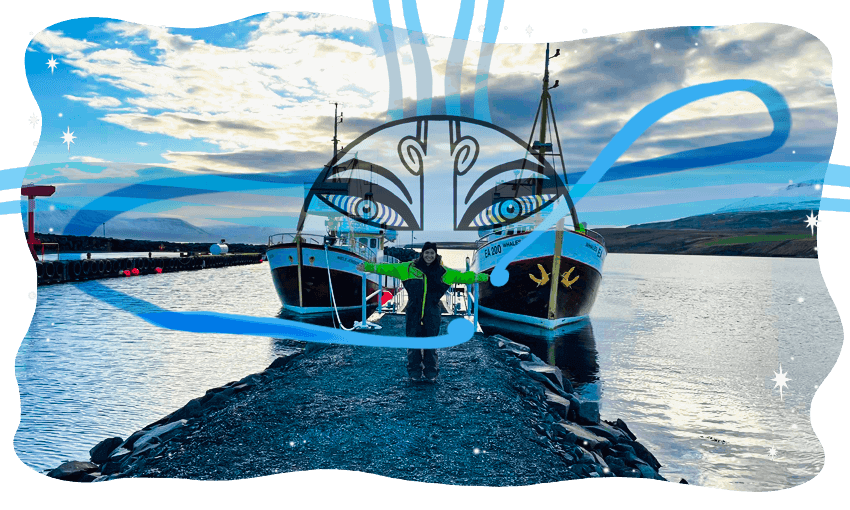 Te Aomihia Walker, a marine biology graduate and policy analyst at Te Ohu Kaimoana, spent six months in Iceland researching how indigenous knowledge can improve the health of our overexploited oceans.
For years commercial fishing has dominated the management of our ocean bodies. Today, a tenth of the world's fish stocks are on the verge of collapse.
It comes from a report by The Minderoo Foundation (a philanthropic organization backed by Australian billionaire Andrew Forrest) released in 2021.
It revealed that almost half of the fish stocks assessed had been depleted to less than 40% of their population before fishing. And a tenth of fish stocks are on the verge of collapse.

The report identifies rising sea temperatures, ocean acidification and overfishing as the main drivers of this depletion.

In the face of this existential threat to our moana, there is a growing political awareness of the need to consider more holistic models of fisheries and oceans management.

This is where Te Aomihia Walker (Ngāti Porou, Rongowhakaata), marine biology graduate and political analyst for Te Ohu Kaimoana, plays a role.

"Many natives know [that holistic thinking is needed]", explains Walker. "Our people have thousands of years of observation of the environment which can be very useful in developing fisheries management plans to rebuild stocks.
Walker's passion for "how indigenous knowledge can add value to fisheries management" was sparked after graduating from the University of Victoria and taking on a role with the Maori Fisheries Trust, Te Oh Kaimoana.
Being selected as a fellow for the Unesco GRO Fisheries Training Program was an opportunity to expose the Icelandic fishing industry, which is heavily focused on commercial fishing, to indigenous knowledge , Walker said.

She spent six months at the Marine and Freshwater Research Institute in Iceland, where her research focused on a fisheries policy called "landing and discarding" – what fishermen can return to port and ashore, and what they must return to the ocean.

"I looked at it through an indigenous lens known as 'etuaptmumk', in Mi'kmaq Elder Dr. Albert Marshall of Eskasoni First Nationwhich he defines as learning to see with one eye with indigenous knowledge and ways of knowing, and through the other eye with Western knowledge, and to use both eyes together for the benefit of all.

Walker capitalized on his own whakapapa and iwi mātauranga relationships, involving his Ngāti Porou tikanga in his research as a mihi in his iwi's collective effort to bring him to Iceland.
As part of her experience, Walker participated in a panel that explored the role of Indigenous guardianship in addressing the existential challenges of climate change and its threats to the ecosystem and biodiversity.
"I was trying to help them understand…that there is no one way to manage fisheries.
"While we have discovered the international frameworks and guidelines that are helpful, it is very helpful to hear the experiences and elevate the knowledge of indigenous peoples and the thousands of years they have been able to care for and to manage their environment.

However, says Walker, while indigenous fisheries management frameworks exist, the political landscape is still not open to "the complete dissolution of this rangatiratanga into iwi".

Within his own Ngāti Porou iwi, progress has been made, with the passage of the 2019 Ngā Rohe Moana o Ngā Hapū o Ngāti Porou law.

"It's going to allow the hapū to develop their own customary fishing plans, where they can pretty much set regulations for their rohe moana, especially around non-commercial fishing, but also maybe have a little influence there. -in on the commercial sector as well" says Walker.

However, the hapū do not currently have the resources to monitor and get people to comply with the tikanga and the laws that will come into effect, which is why she says the government must play a role in funding the hapū to do this. .

"There are certainly frameworks out there, I just don't think they're being implemented as well as expected under some of the promises made in the Fisheries Settlement Act in the 1990s."

Speaking to Iwi Maori fishers, Walker said tikanga drives much of the companies' operational policies, but more work needs to be done to bring tikanga Maori into the commercial fishery.

For example, with respect to the landing of unwanted catches, where a licensed catcher does not want some of the fish that a commercial fisherman has caught, the regulations state that it may be necessary to throw it in a landfill.

Walker points out that where she comes from, it doesn't fit the tikanga of "using all the fish" at all.

This is where there needs to be a more collective iwi endorsement of tikanga to reinforce these practices at all levels, she says.

Working alongside fellows from 17 countries, with a majority of representatives from African nations, Walker says it opened his eyes to indigenous cultures around the world, which in turn were exposed to mātauranga Māori.

She hopes that through her scholarship she has helped open the door to other Indigenous peoples and played a role in increasing international awareness of Indigenous perspectives and approaches to moana.
---
Follow The Spinoff's te ao Māori podcast Not ? on Apple podcast, Spotify or your favorite podcast provider.
Public interest journalism funded by NZ On Air.