With Bowdoin scholarships, students delve into environmental issues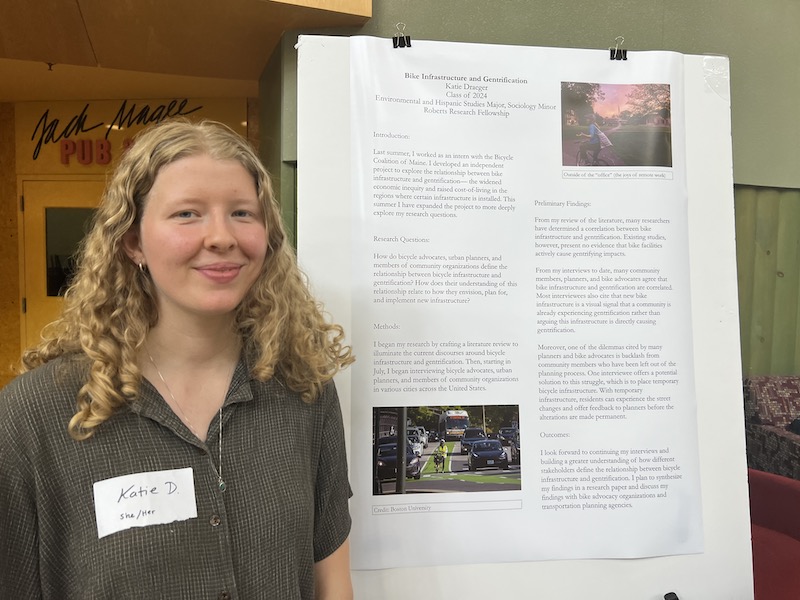 Katie Draeger: Do bike lanes cause gentrification?
Last summer, when Draeger was interning with the Bicycle Coalition of Maine in Portland, she looked at how bike paths take into account—or not—in community climate change plans. "My first research project with them was to create a fact sheet to help partner organizations involved in climate justice and climate mitigation understand why bike lanes are an important part of our transition to a climate-friendly economy. low carbon," she said.
Often, she found that city leaders, in their enthusiasm for bolstering electric vehicle infrastructure, overlooked the importance of bicycles in reducing emissions. But, she pointed out, "cycling infrastructure, when combined with good public transport and good pedestrian infrastructure, helps people use their cars less. ."
During her investigation, she also ran into another hurdle: the fear that installing bike lanes and bike racks would change neighborhood demographics by attracting higher-income people, which would force people to leave their home.
In her analysis of the few studies she found on bike lanes and gentrification, she saw a correlation between the two factors. "But within this limited research, I'm trying to understand the causal direction. It may not be that bike lanes cause gentrification, but that they mediate the process," she said. declared.
She would like to continue the research in a specialized project next year.
Advisor: Eileen Johnson
"What I really want to take away from my research so far is that community members need to have a say in how their community looks. Participatory planning is not a favor for communities, it's a boon for city planners." —Katie Draeger '24